Wacom Intuos Pro Large Digital Drawing Kit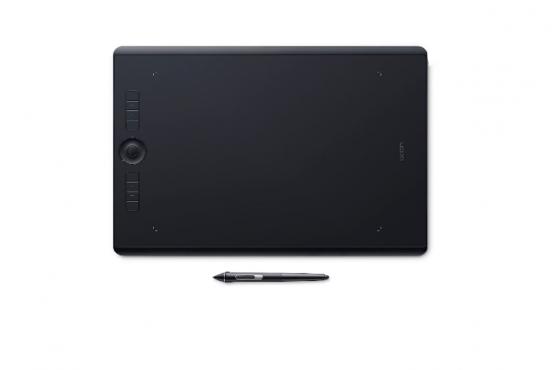 Description
EB Create has a Wacom Intous Large digital pen and drawing tablet available for circulation. Wacom
Intous Large's pressure-sensitive pen is the perfect tool for drawing. Get natural creative control
while you illustrate, edit or design digitally with Intuos Pro.
What can Wacom Intuos Pro do:
1 Wacom Intuos Pro Large Model: PTH-860
1 Wacom Pro Pen 2
1 Pen Stand
1 2m (6.6ft) PVC-free USB cable
Tablet size:
Large: 430 x 287 x 8 mm / 16.8 x 11.2 x 0.3 in
If the Pen Stand becomes detached, screw the two
pieces together. Replacement nibs for the pen
are located in the EB Create spare parts storage
box.
● Laptop or Desktop PC: Windows® 7, 8.1 and 10
● Laptop or Desktop Mac: OS X 10.10 or later
● Chromebook*: Chrome OS 87 or later (Kernel 4.4 + required).
No driver is needed for Chromebook.
● Standard USB-A port
● Internet access to download PC and Mac driver (for the tablet to work)
Setup:
Step 1: Plug the USB cable into your tablet and computer.
Step 2: Download Driver.
Windows Driver: 
https://www.wacom.com/en-us/support/product-support/drivers#
macOS Driver:
https://www.wacom.com/en-us/support/product-support/drivers#
Setup and installation for Windows computers:

Set up your Wacom Intuos in just a few easy steps: https://youtu.be/Jn2_jrm1WLA

How to use the Pen:      

 

How to use Express Keys:

How to change Pen nibs:    

 
 
Wacom Setup guide: 
https://www.wacom.com/en-us/getting-started/wacom-intuos
How to set up Your Wacom Intuos Pro with Photoshop:
Pairing Wacom Intuos Pro via Bluetooth for Windows
Pairing Wacom Intuos Pro via Bluetooth for Mac