Orion Starblast Telescope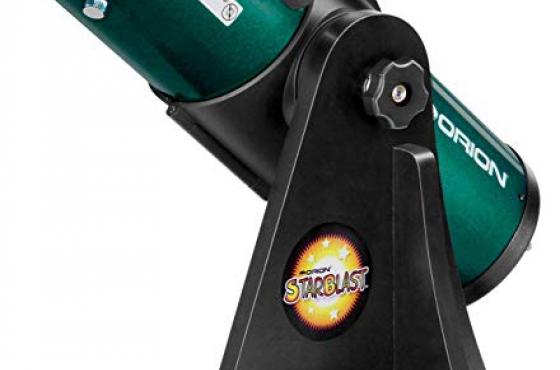 Description
This telescope is perfect for people who have already experimented with our beginner telescopes and want to take the next step with their stargazing. This kit includes one Orion Starblast telescope with two lenses, 17mm and a 6mm. In addtion, the kit comes with an EZ Finder II reflex sight to help you focus your telescope on objects in the sky. The telescope, lenses, and reflex sight all come packaged in a duffel bag to easily carry this telescope outside. Also included is a Moon Map to help you identify lunar features, a Star Target Map which helps you identify celestial objects that are visible at different times throughout the year, a Telescope Observer's Guide that identifies easy to see objects, and a red-light flashlight to help consult these guides in the dark without ruining one's night vision.  
Here's what to expect when you unbox your kit at home:
The EB Create Orion Starblast Kit Includes:
1 Orion Starblast telescope
2 lenses (6mm and 17mm)
EZ Finder II reflex sight
Instruction manua
Black carrying bag
Orion Beginners Stargazing Toolkit (with Moon Map, Telescope Observer's Guide, Star Target Map, and red-light flashlight) 
Total Replacement Cost: $250
To place a hold on this kit, click the Book It! button above.  You will receive a notification when your kit is ready to be picked up! 
Library Resources:
Click here to learn more about telescopes with these items you can borrow from the library.
If you need assistance with searching the library's catalog or placing holds on items, please drop by the library or call the Information Services Desk at 732-390-6767.
Online Resources:
Introduction to the Orion Starblast telescope:
How to Use the EZ Finder II reflex sight: