Our librarians have pulled together information about voting resources.
Vote 2022
Information websites about the General Election:
 
Register to vote:
To participate in the general election, you must be registered to vote in Middlesex County by Tuesday, October 18, 2022.. You
Must be a United States citizen
Must be 18 years of age by Election Day, but can register at 17
Must be a New Jersey resident and of your county at least 30 days prior to the election
Cannot be declared mentally incompetent by a court
Cannot be incarcerated  
Find out if you are registered:
How to register:
By Mail
Online
In-Person
You can also register in person if you prefer at 
Middlesex County Board of Elections
11 Kennedy Boulevard 
East Brunswick , NJ 08816
Phone Number: (732) 745-3471
elections@co.middlesex.nj.us
 
Middlesex County Clerk – Division of Elections
Middlesex County Administration Building
75 Bayard Street, 4th Floor
New Brunswick, NJ 08903-1110
Phone Number: (732) 745-4202
middlesexvotes@co.middlesex.nj.us
Request a mail-in ballot:
How to vote:
EARLY VOTING: New Jersey now allows early voting. Early Voting will take place from Saturday, October 29 through Sunday, November 6,2022.  The location for early voting is the East Brunswick Community Arts Center at 721 Cranbury Road.  Hours will be Monday-Saturday, 10:00 a.m.-8:00 p.m. and Sunday, 10:00 a.m.-6:00 p.m. No appointment is necessary.
 
Return your ballot through the United State Postal Service.
Submit your ballot in one of the Middlesex County Board of Elections drop boxes (see locations below)
Drop it off directly to the Board of Elections' Office in East Brunswick at 11 Kennedy Boulevard.
Submit your ballot or vote in-person at your assigned polling location in-person on Election Day, November 8, 2022. Polls are open from 6 am - 8 pm. 
General Election Polling Locations
Secure Drop Box Locations
Governor Murphy's Executive Order 177 requires each county to have a minimum of 10 drop box locations available to voters. Currently, there are 11 drop box locations in Middlesex County maintained by The Middlesex County Board of Elections. Drop Boxes are secure and monitored by video surveillance. Drop boxes are closed 15 minutes before the polls close on Election Night at 8 pm.
The drop box in East Brunswick is located at:
The East Brunswick Municipal Complex  at 1 Jean Walling Civic Center.
The drop box is located near the entrance to the Court/Police Department in Municipal parking lot #3.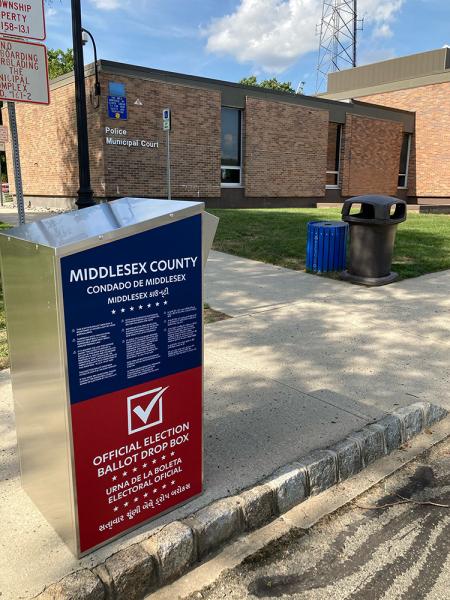 Other Middlesex County drop box locations:
Jamesburg Municipal Complex
131 Perrineville Road, Jamesburg
Drop box located within the parking lot, in the Safe Zone
Piscataway Municipal Complex
455 Hoes Lane, Piscataway
Drop box located on walkway between municipal building and police station
Sayreville Borough Hall
167 Main Street, Sayreville
Drop box located behind building, on the sidewalk
(right side when facing the building)
Milltown Municipal Complex
39 Washington Ave., Milltown
Drop box located at beginning of side entrance accessible from the parking lot.  Slated as Safe Exchange Zone
Metuchen Municipal Complex
500 Main Street, Metuchen
Drop box located in back of parking Lot - by handicap parking lanes.
Plainsboro Municipal Complex
641 Plainsboro Road, Plainsboro
Drop box located in front of stairs to Municipal Buiding.
Woodbridge Municipal Building
1 Main St., Woodbridge
Drop Box is curbside. Adjacent to north side of main entrance stairs to town hall.
Edison Municipal Complex
100 Municipal Blvd. Edison
Drop Box located Municipal Complex entrance outside under awning.
County Administration Building
75 Bayard Street, New Brunswick
Drop box located in front of front entrance.
Perth Amboy Public Safety Complex
36 New Brunswick Ave, Perth Amboy
Drop box located between Municipal Court and Police Station; closer to police station entrance.
Track Your Ballot
General Election Polling Locations
Your General Election 2022 Ballot
Candidates
2022 Ballot Measures
For more information, visit Ballotpedia by clicking here.
Election Results
Current Election click here
Archives click here