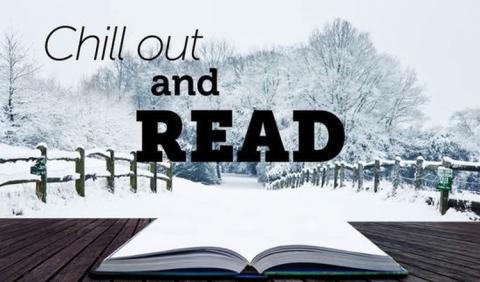 There's something about cold weather and dark nights that make me want to find a book full of snow and curl up on the couch. If you feel the same, check out one of these recent titles.
 
Snow Falling on Cedars by David Guterson 
San Piedro Island, north of Puget Sound, is a place so isolated that no one who lives there can afford to make enemies. But in 1954 a local fisherman is found suspiciously drowned, and a Japanese American named Kabuo Miyamoto is charged with his murder. In the course of the ensuing trial, it becomes clear that what is at stake is more than a man's guilt.
Above all, San Piedro is haunted by the memory of what happened to its Japanese residents during World War II, when an entire community was sent into exile while its neighbors watched. Gripping, tragic, and densely atmospheric, Snow Falling on Cedars is a masterpiece of suspense-- one that leaves us shaken and changed.
Once Upon a River by Diane Setterfield 
On the dark and stormy winter solstice of 1870, a man barges into the local inn with a drowned four-year-old girl in his arms. When she suddenly comes back to life hours later, many in the village want to claim her as their own, and in so doing reveal tales of family and secrets.
Winter Garden by Kristin Hannah 
From the author of the smash-hit bestseller Firefly Lane and True Colors comes Kristin Hannah's powerful, heartbreaking novel that illuminates the intricate mother-daughter bond and explores the enduring links between the present and the past.  Alternating between the past and present, Meredith and Nina will finally hear the singular, harrowing story of their mother's life, and what they learn is a secret so terrible and terrifying that it will shake the very foundation of their family and change who they believe they are.
 
The Snow Child by Eowyn Ivey
Alaska, 1920: a brutal place to homestead, and especially tough for recent arrivals Jack and Mabel. Childless, they are drifting apart--he breaking under the weight of the work of the farm; she crumbling from loneliness and despair. In a moment of levity during the season's first snowfall, they build a child out of snow. The next morning the snow child is gone--but they glimpse a young, blonde-haired girl running through the trees. What follows is a lovely story about the arrival of a secretive girl who will transform their lives forever. 
Snowblind by Ragnar Jonasson 
The idyllic Northern Iceland fishing village Siglufjörður becomes isolated each winter, accessible only via a small mountain tunnel. New to town, rookie policeman Ari Thór Arason is missing big city life and feeling claustrophobic. When a snowstorm blocks the tunnel and Arason finds a local author dead and another woman stabbed, he realizes he and the town are trapped with a killer.