7 Short Books to Help Meet Your Reading Goals for the New Year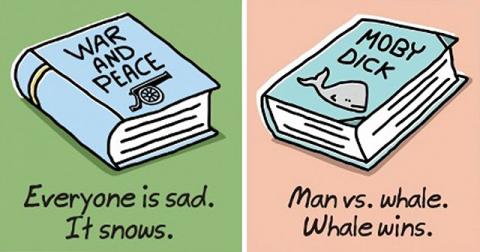 Here's a quick sampling of some fantastic speedy reads to help meet your reading goals for this year.  From the classics, to romance, to fantasy, there's a bit of something for everyone.
 
Another Brookyln by Jacqueline Woodson 
Another Brooklyn follows August as she remembers her tween and teen years in Brooklyn. Her father moved there from Tennessee when August was just eight years old. August and her younger brother used to people-watch from their apartment window. It's from there that she spotted the three girls, Sylvia, Angela and Gigi, who would become her close friends for the next eight years. August and her friends' lives are far from perfect. Yet they try to hold on to their dreams just as reality rears its ugly face on every street corner.  This is a story of female friendship that evolves and changes, bringing both joy and pain as the four girls transition into adulthood.
The House on Mango Street by Sandra Cisneros 
Acclaimed by critics, beloved by readers of all ages, taught everywhere from inner-city grade schools to universities across the country, and translated all over the world, The House on Mango Street is the remarkable story of Esperanza Cordero. Told in a series of vignettes – sometimes heartbreaking, sometimes deeply joyous – it is the story of a young Latina girl growing up in Chicago, inventing for herself who and what she will become. Few other books in our time have touched so many readers.
We Have Always Lived in the Castle by Shirley Jackson 
We Have Always Lived in the Castle by Shirley Jackson Merricat Blackwood lives on the family estate with her sister Constance and her Uncle Julian. Not long ago there were seven Blackwoods—until a fatal dose of arsenic found its way into the sugar bowl one terrible night. Acquitted of the murders, Constance has returned home, where Merricat protects her from the curiosity and hostility of the villagers. Their days pass in happy isolation until cousin Charles appears. Only Merricat can see the danger, and she must act swiftly to keep Constance from his grasp.
The Fire Next Time by James Baldwin 
A national bestseller when it first appeared in 1963, The Fire Next Time galvanized the nation and gave passionate voice to the emerging civil rights movement. At once a powerful evocation of James Baldwin's early life in Harlem and a disturbing examination of the consequences of racial injustice, the book is an intensely personal and provocative document.